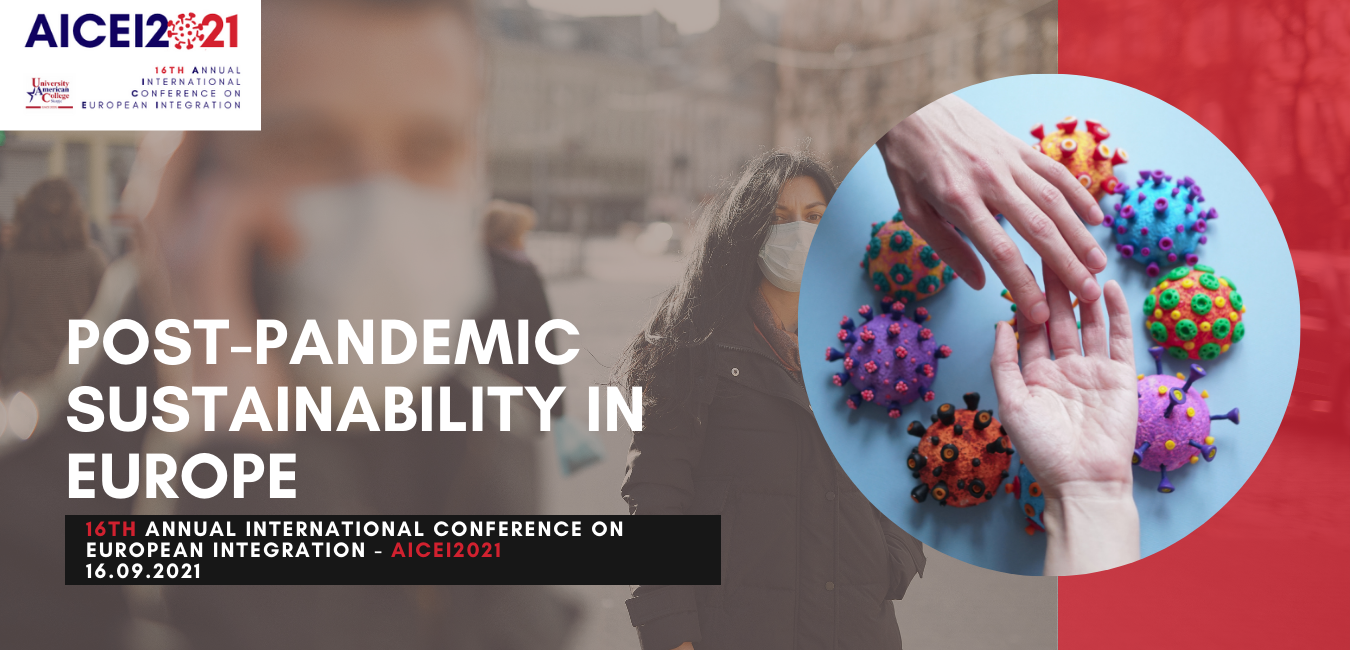 AICEI 2021 – "POST-PANDEMIC SUSTAINABILITY IN EUROPE"
The emergence of the COVID-19 pandemic has led to a dramatic public health and socio-economic impact. According to the World Health Organization, since December 31st, 2019, more than 106 million cases and 2 million global deaths have been attributed to COVID-19. Although the pandemic is continuing to affect all segments of the population, it has a disproportional health and socio- economic impact on members of those social groups in the most vulnerable situations, such as people living in poverty, older persons, persons with disabilities, youth and unemployed., For the first time in 20 years a reversal in global poverty success has occurred with the total COVID-19-induced new poor in 2020 is estimated to be between 119 and 124 million. The International Labor Organization reported on an unprecedented impact on the workplace. There were unparalleled global employment losses in 2020 of 114 million jobs relative to 2019, with disproportionally higher rates for women in young workers. Additionally, at the start of 2021, 93 per cent of the world's workers continue to reside in countries with some form of workplace closures in place with global labor income is estimated to have declined by 8.3 per cent in 2020 relative to 2019.
This unleashing of a new era of change for individuals, societies, economies and cultures requires urgent and tailored socio-economic responses to prevent escalation of global suffering. Unfortunately, the pandemic has brought with itself a new set of unforeseen and fast-growing variables which most crises planning were not able to anticipate. According to the UN, if not properly addressed through policy actions, the health, social and economic crisis created by the COVID-19 pandemic may result in increased inequality, exclusion, discrimination and global unemployment in the medium and long term. Although the latest developments regarding vaccine approvals present a light at the end of the tunnel, ILO highlights that the actual speed and quality of the recovery will depend on a wide range of political, economic and health factors, including the extent of vaccination, how countries continue to control the pandemic, and whether policy measures can be maintained to promote economic and labor market recovery. Therefore, in order for effective decisions to be made that will foster this recovery, a better and up-to-date knowledge and understanding of the evolving situation is needed.
University American College Skopje (UACS) is proud to announce its Sixteenth Annual International Conference on European Integration – AICEI2021. By addressing the theme "Post-Pandemic Sustainability in Europe" this year's conference seeks to assess the impacts of the COVID-19 crisis on societies, economies, business and individual and public health as fundamental concepts that foster the recovery responses of European countries and globally, to ensure that "no one is left behind in this effort".
POST-PANDEMIC SUSTAINABILITY IN EUROPE
Submit your abstract until 01.04.2021
More info: www.aicei.uacs.edu.mk
By providing a platform for the academics, researchers, community and government participants and students to share their research findings with the global experts, AICEI2021 will explore the observed impact of COVID-19 and opportunities for building sustainability of the following segments:
1.Health
-Decreasing community spread and individual risk
-Mental health impact of the pandemic including
-Stress and anxiety
-Changes in life expectancy
-Chronic disease and COVID-19
-COVID-19 vaccines
2. Business, Finance and Economy
-Sustainability of Small and Medium Sized enterprises
-Workforce management
-Restructuring of jobs (special focus on teleworking)
-How organizations changed
-Unemployment and its impact on job seeking and hiring
-Career development
-Consumption patterns, consumer behavior, marketing strategies and sales tactics
-Social entrepreneurship
-Innovations to overcome the crisis
-Financial exit from COVID-19
3. Society and culture
-Segmentations and polarization of societies due to pandemic
-Race and Ethnicity
-Gender and diversity
-Families
-Vulnerable groups
4.Environment
-Air, land, chemical and water pollution
-Food sustainability
5. Education
-Blended learning and its effects
-Investigations into online learning
6. Political effects of the COVID-19 pandemic
7.Architecture
-Post-pandemic cities