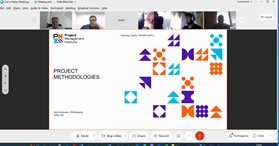 Guest lecture at UACS SCHOOL OF COMPUTER SCIENCE AND INFORMATION TECHNOLOGY
The students of the software engineering course at SCHOOL OF COMPUTER SCIENCE AND INFORMATION TECHNOLOGY with Ass. Prof. Goce Gavrilov on 27 of April 2021 had a great pleasure to follow a guest lecture by Darko Dimitrovski.
Darko Dimitrovski is one of the founders and an active member of PMI Chapter Macedonia. Based on the fruitful cooperation between PMI Chapter Macedonia and UACS, Mr. Dimitrovski was invited to be a guest speaker.
During the lecture to the students, it was presented what is Project management in reality and what are the best-known practices/methodologies applicable to develop and deliver project results in a more efficient fashion.
We thank him for his contribution to the course and the class.
Darko Dimitrovski is a Mechanical engineer, MBA, and certified PM, trainer, and agile coach who respects all approaches facilitating people and work alongside them delivering the best results possible. Thrilled to learn and develop a community with the best-known practice for project and delivery management.