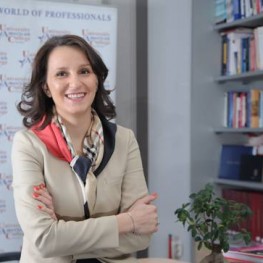 Venera Krliu Handjiski, PhD
Chief Operations Officer / Vice President of the Board of Directors / Vice Rector for Education
Assoc. Prof. Venera Krliu Handjiski, PhD is an Associate Professor in Organizational Behavior at the UACS School of Business Economics and Management. She is the deputy CEO, Chief Operations Officer, Vice President of the Board of Directors, and Vice Rector for Education.
During the period 2008-2012, she has served as the Council Member of the Macedonian Enterprise Development Foundation. In 2012, Assoc. Prof. Krliu Handjiski, PhD has been awarded the "Business Leader of the Year" on part of the European Business Association in R.N.Macedonia.
She has completed her doctoral studies at the University "Euro-Balkan" in Skopje, R.N.Macedonia. She earned her MBA degree with a concentration in General Management at the University American College Skopje. Assoc. Prof. Krliu Handjiski, PhD has completed executive education courses, European Entrepreneurship Colloquiums by Harvard Business School in 2009 and 2015.
In 2008 she has received the certificate for participation in the Young Managers Programme, organized by the IEDC-Bled School of Management, Slovenia.