UACS student of psychology at Youth Exchange camp in Calabria
A Youth Exchange is an international camp with participants from different countries. The goal of these camps is to learn, make new friends, and to plan for the future. Done Donev, a student of UACS Department of Psychology, was part of the YE project "Together in This" organised by the Italian NGO Ideas to Action, in October 2019 in Calabria.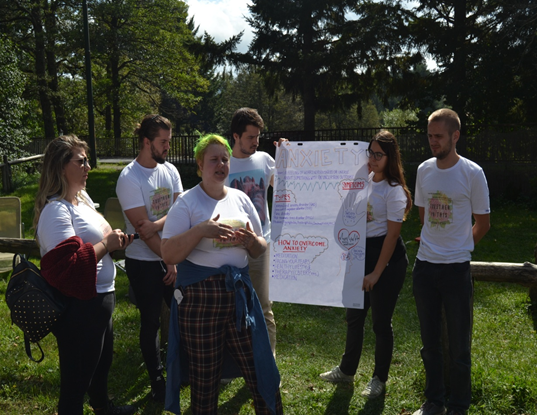 The motivation behind the project came from the increasing number of young people affected by prolonged loneliness. In fact, 6.4% of young people around Europe at the age of 16 to 29 experience and live with loneliness. "Together in This" is a project funded by the Erasmus+ program, in which young adults from five different countries (Macedonia, Italy, Serbia, Greece and Finland) participated to discuss and raise awareness about mental health hygiene. 

The aims of the project were to reduce the number of young people with mental health issues, as well as to break the taboo about mental health and loneliness. Participants gained experience in overcoming social pressure, and raised awareness of mental health issues and loneliness amongst themselves. The method of learning used during the project was non-formal education, which provided multiple ways of discussing the issue at hand. The project was finalized by creating a short movie on schizophrenia, as well as a leaflet and a booklet (see https://drive.google.com/open?id=11rucJ97htSKnDCQjbaV39uOo7SmrWEdO)