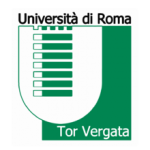 University American College Skopje and University of Rome Tor Vergata are proud to initiate the 14th annual international academic conference on European integration
INNOVATING EUROPE
Skopje, 16 May 2019
This inter- and multi-disciplinary conference seeks to examine the concept of innovation affecting all areas of life and all aspects of future European development. Taking into consideration the pressing need to find innovative economic, social and political solutions to evolving challenges to the European project, this conference aims to critically reflect on EU innovation policies, methodologies and instruments by addressing key issues, in particular:
New EU economy prospects
Business innovations
The future of skills
Cross-industry innovations
Public sector innovations
Social innovations
Innovative schooling and education models
Non-technological innovation and innovation in the services sector
Technological breakthroughs
New processes and business models
Startups and entrepreneurship
Small and medium size enterprises
Family businesses
Challenges to innovation, in particular in South East Europe
Digital transformation
Digital citizenship
Digital tax
Energy infrastructure, transportation connectivity and economic integration
Innovative youth cooperation and regional initiatives
Case studies comparing at least three countries (including but not limited to those of South East Europe) as well as research-based policy recommendations are encouraged.
Important dates:
Abstracts due: 31 January 2019
Notification of acceptance: 7 February 2019
Papers due: 28 March 2019
Review feedback: 25 April 2019
Revised paper due: 9 May 2019
Conference date: Thursday 16 May 2019
The working language of the conference is English. This year the conference welcomes both paper and poster presentations by scholars and professionals from any discipline including but not limited to economics, finance, management, law, political science, international relations, security studies, environment, sociology, information science, education, media, liberal arts, language, film, literary and cultural studies. PhD students are also encouraged to take part.
Paper presentations: We welcome papers of maximum 4500 words. All papers need to be submitted and will be peer-reviewed prior to the conference. The number of participants presenting at the main sessions will be limited to those who submit papers of the highest quality and relevance. We will consider papers written by a maximum of three authors, and not more than two papers of the same author (regardless whether she or he appears as first, second or third author). Following an additional review process, a selection of the best quality papers presented at the conference will be considered for publication in an ISBN e-book and/or hard copy volume. The volume will be also available through and indexed in top EBSCO databases. Also, a selection of most relevant papers will be considered for publication in a special edition of the International Journal of Transitions and Innovation Systems (www.inderscience.com/ijtis). To avoid copyright infringements, the program and organizing committee will review and publish only original works which are not currently under consideration elsewhere. The papers that are accepted will require a copyright release form in order to be published.
Poster presentations: Poster size should be A1 (59.4 x 84.1 cm). This size meets the requirements for most conferences. All posters will be displayed in a single one-hour session. Poster presenters are required to be present with their poster during the session.
Registration: The conference fee for a paper presentation is 100 Euro (or 6000 Macedonian denars), whereas the conference fee for a poster presentation is 50 Euro (or 3000 Macedonian denars). While all authors are encouraged to register and attend the conference, at least one author per accepted paper must register and attend the conference for the paper to be considered for publication. The registration fee includes access to all sessions, conference kit with program and other materials, buffet lunch and two coffee breaks. For conference attendees only, the fee is 20 Euro (1000 Macedonian denars). UACS and Tor Vergata students wishing to attend the sessions may register for free. Following the notification of acceptance, registration fee should be paid no later than 8 May 2019. Once paid, the registration fee is not refundable.
Participants are responsible for their own travel and accommodation booking and expanses. The organizers can offer advice, if needed.
Abstracts: Maximum 300 word abstracts can be submitted by email to conference@uacs.edu.mk Abstracts should be written in Word or RTF formats, font Times New Roman size 12, following this order: author(s), affiliation, email address, title of abstract, body of abstract, 5-7 key words. A short biography (up to 100 words) is also required.
For other conference updates, please visit our web page: https://www.uacs.edu.mk/conference/   
Program Committee:
Prof. Dr. Jeremy Cripps, University of Findlay, USA
Prof. Dr. Vlado Dimovski, University of Ljubljana, SI
Prof. Dr. Ivan Dodovski, Co-chairperson, University American College Skopje, MK
Prof. Dr. Luca Gnan, Co-chairperson, University of Rome Tor Vergata, IT
Prof. Dr. Robert Hudson, University of Derby, UK
Prof. Dr. Mehmet Zeki Ibrahimgil, Gazi University, Ankara, TR
Prof. Dr. Zlat R. Milovanovic, University American College Skopje, MK
Prof. Massimiliano Pellegrini, University of Rome Tor Vergata, IT
Prof. Dr. Marjan Petreski, University American College Skopje, MK
Prof. Dr. Claudia Sandei, University of Padova, IT
Prof. Dr. Mile Terziovski, Swinbourne University of Technology, AU
Prof. Dr. Milica Uvalic, University of Perugia, IT
Prof. Dr. Balázs Vizi, Hungarian Academy of Sciences, HU
Prof. Dr. Johan G. Wissema, Delft University of Technology, NL
Prof. Dr. Izet Zeqiri, Macedonian Academy of Sciences and Arts, MK
Organizing Committee:
Dr. Marina Andeva, Chairperson, University American College Skopje
Makedonka Dimitrova, MPPM, University American College Skopje
Prof. Dr. Luca Gnan, University of Rome tor Vergata, IT
Prof. Dr. Snezana Hristova, University American College Skopje
Prof. Dr. Nikica Mojsoska Blazhevski, University American College Skopje
Prof. Dr. Toni Vasic, University American College Skopje
Dr. Ivana Trajanoska, University American College Skopje
Conference Secretariat:
Teodora Atanasova, General Secretary
Ilijana Bojadjieva
Boni Cvetanovska
Tamara Mladenovik