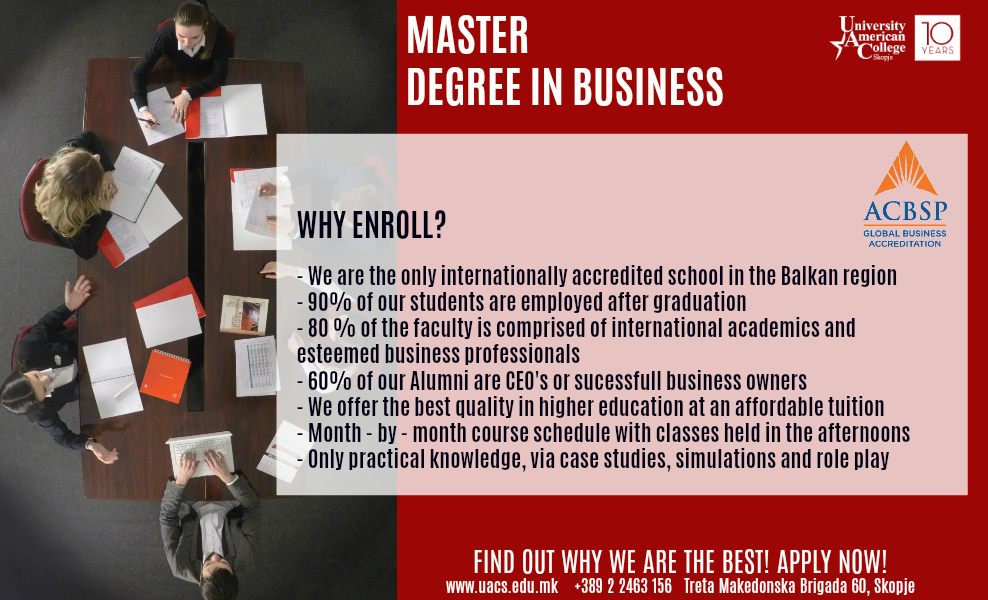 MASTER OF BUSINESS ADMINISTRATION
MISSION
Our mission is to prepare the MBA candidates for theglobal world, enabling them to cope with the speed of change in business and society. We are glad that our MBA candidates show the same level of academic accomplishments as those from top tier schools. We have managed to provide excellence in higher education at affordable costs. UACS candidates can earn their MBA degree for a fraction of the tuition charged at other internationally recognized universities.
OUR FACULTY
UACS SBEM program is supported by over 30 scholars, professors of management practice, and international visiting professors. Their combined knowledge and experience provides the students with a unique opportunity to learn from the best. The program at UACS SBEM offers thorough exposure to theoretical and practical issues.
UACS SBEM Faculty combines:
WHAT AND HOW WE  TEACH 
At graduate level, we believe that the instructor's responsibilities include:
Asking the right questions
Leading the class discussions
Helping the students find their own solution to the problems raised.
UACS MBA is based on Harvard Business School teaching method named "PCL" which stands for Participant Centered learning.
The core concept is that Participants are in the focus of the learning process.
The instructors ask the right questions and initiate class discussion and interaction. The primary goal is applying the knowledge and gaining practical skills.
Apart from teaching theory and facts, we employ leading-edge teaching techniques, such as:
case studies,
role plays,
problem solving,
individual and team projects, and
simulations
So far, we have 16 faculty members holding a teaching certificate according to the Participant- Centered Learning methods.
Many instructors have discovered that a highly interactive question and answer technique overcomes the problems of the traditional lecture and makes it an effective learning experience. Instead of providing all the
information themselves, the professors try to elicit as much from their students by asking direct questions,initiating group discussions and solving mini case studies. The groups meet on Wednesday, Thursday andFriday afternoons, as well as on Saturday mornings.
Note: Lectures held by visiting professors arescheduled as intensive courses (Monday – Saturday).
All UACS MBA programs and concentrations are offered in English.
The UACS MBA program provides an excellent opportunity for experienced professionals to obtain their Master's degree by following a schedule that minimizes the disruption of their work and personal goals. Our MBA program is structured in two layers. The first layer consists of core courses and it is organized into five streams:
ENROLLMENT CRITERIA
Proficiency in English
A minimum of 2-year work experience (after graduation)
Bachelor's degree from an accredited institution
Candidates who have a non-business degree must take Pre-entry Business courses
The executive MBA is the crown of the MBA degrees.It is intended for executive managers, higher level professionals, CEO's, business owners etc. that have at least two years of professional experience. The classes are constructed in accordance with the Harvard Business School teaching method, and by using HBS case studies, and materials from other renowned business schools such as Kellog, Darden etc.


| | |
| --- | --- |
| Executive MBA courses |  ECTS |
| Organizational behavior and leadership | 6 |
| Corporate finance | 6 |
| Global business | 6 |
| Marketing and digitalization | 6 |
| Operations and project management | 6 |
| Research methodology | 6 |
| Strategic management | 6 |
| Managerial accounting | 4 |
| Elective course | 6 |
| Internship and project | 8 |
| Total | 60 |
| | |
| Elective courses in concentration |   |
| Innovation management and creativity | 6 |
| Creating and managing organizational change | 6 |
The MBA with a concentration is intended for those who wish to pursue an MBA program but at the same time want to acquire some more in depth knowledge about a specific field they are interested in. Therefore, UACS offers 4 MBA degree with a specific concentration.
| | |
| --- | --- |
| Management | ECTS |
| Organizational behavior and leadership | 6 |
| Corporate finance | 6 |
| Global business | 6 |
| Marketing and digitalization | 6 |
| Operations and project management | 6 |
| Research methodology | 6 |
| Strategic management | 6 |
| Managerial accounting | 4 |
| Business ethics and corporate governance | 10 |
| Strategic HR management | 10 |
| Family businesses and entrepreneurship | 10 |
| Elective course | 6 |
| Master thesis | 8 |
| Total | 90 |
| Elective courses in concentration | |
| Innovation management and creativity | 6 |
| Creating and managing organizational change | 6 |
| | |
| --- | --- |
| Marketing  | ECTS |
| Organizational behavior and leadership | 6 |
| Corporate finance | 6 |
| Global business | 6 |
| Marketing and digitalization | 6 |
| Operations and project management | 6 |
| Research methodology | 6 |
| Strategic management | 6 |
| Managerial accounting | 4 |
| Integrated marketing communications | 10 |
| Pricing policy | 10 |
| Strategic brand management | 10 |
| Elective course | 6 |
| Master thesis | 8 |
| Total | 90 |
| | |
| Elective courses in concentration | |
| Strategic management | 6 |
| Innovation management and creativity | 6 |
| | |
| --- | --- |
| Finance | ECTS |
| Organizational behavior and leadership | 6 |
| Corporate finance | 6 |
| Global business | 6 |
| Marketing and digitalization | 6 |
| Operations and project management | 6 |
| Research methodology | 6 |
| Strategic management | 6 |
| Managerial accounting | 4 |
| Bank management | 10 |
| Financial reporting and financial statement analysis | 10 |
| International finance | 10 |
| Elective course | 6 |
| Master thesis | 8 |
| Total | 90 |
| Elective courses in concentration | |
| Cororate reporting | 6 |
| Entrepreneurial finance | 6 |
| | |
| --- | --- |
| Human Resources Management | ECTS |
| Organizational behavior and leadership | 6 |
| Corporate finance | 6 |
| Global business | 6 |
| Marketing and digitalization | 6 |
| Operations and project management | 6 |
| Research methodology | 6 |
| Strategic management | 6 |
| Managerial accounting | 4 |
| Business ethics and corporate governance | 10 |
| Strategic HR management | 10 |
| Performance and compensation management | 10 |
| Elective course | 6 |
| Master thesis | 8 |
| Total | 90 |
| Elective courses in concentration |   |
| Staff training and development | 6 |
| Innovation management and creativity | 6 |
| | |
| --- | --- |
| Management |   |
| Year I | ECTS |
| Business Communication | 8 |
| Business ethics and corporate governance | 10 |
| Strategic HR management | 10 |
| E-business | 8 |
| Family businesses and entrepreneurship | 10 |
| Elective course | 6 |
| Internship and project | 8 |
| Total | 60 |
| Year II | |
| Organizational behavior and leadership | 6 |
| Corporate finance | 6 |
| Global business | 6 |
| Marketing and digitalization | 6 |
| Operations and project management | 6 |
| Research methodology | 6 |
| Strategic management | 6 |
| Managerial accounting | 4 |
| Elective course | 6 |
| Master thesis | 8 |
| Total | 60 |
| Elective courses in concentration | |
| Innovation management and creativity | 6 |
| Creating and managing organizational change | 6 |
| | |
| --- | --- |
| Marketing |   |
| Year I | ECTS |
| Business Communication | 8 |
| Measuring marketing performance | 8 |
| Integrated marketing communications | 10 |
| Pricing policy | 10 |
| Strategic brand management | 10 |
| Elective course | 6 |
| Internship and project | 8 |
| Total | 60 |
| Year II | |
| Organizational behavior and leadership | 6 |
| Corporate finance | 6 |
| Global business | 6 |
| Marketing and digitalization | 6 |
| Operations and project management | 6 |
| Research methodology | 6 |
| Strategic management | 6 |
| Managerial accounting | 4 |
| Elective course | 6 |
| Master thesis | 8 |
| Total | 60 |
| Elective courses in concentration | |
| Strategic marketing | 6 |
| Innovation management and creativity | 6 |
| | |
| --- | --- |
| Finance | |
| Year I | ECTS |
| Business Communication | 8 |
| Portfolio management and analysis | 8 |
| Bank management | 10 |
| Financial reporting and financial statemetn analysis | 10 |
| International finance | 10 |
| Elective course | 6 |
| Internship and project | 8 |
| Total | 60 |
| Year II | |
| Organizational behavior and leadership | 6 |
| Corporate finance | 6 |
| Global business | 6 |
| Marketing and digitalization | 6 |
| Operations and project management | 6 |
| Research methodology | 6 |
| Strategic management | 6 |
| Managerial accounting | 4 |
| Elective course | 6 |
| Master thesis | 8 |
| Total | 60 |
| Elective courses in concentration | |
| Corporate reporting | 6 |
| Entrepreneurial finance | 6 |
| | |
| --- | --- |
| Human Resource Management |   |
| Year I | ECTS |
| Business Communication | 8 |
| Business ethics and corporate governance | 10 |
| Strategic HR management | 10 |
| Recruitment and selection | 8 |
| Performance and compensation management | 10 |
| Elective course | 6 |
| Internship and project | 8 |
| Total | 60 |
| Year II | |
| Organizational behavior and leadership | 6 |
| Corporate finance | 6 |
| Global business | 6 |
| Marketing and digitalization | 6 |
| Operations and project management | 6 |
| Research methodology | 6 |
| Strategic management | 6 |
| Managerial accounting | 4 |
| Elective course | 6 |
| Master thesis | 8 |
| Total | 60 |
| Elective courses in concentration | |
| Staff Training and development | 6 |
| Innovation management and creativity | 6 |