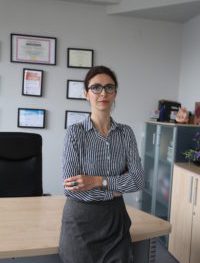 Ass.Prof. Dushica Stevchevska Srbinoska, PhD
Head of Finance and Accounting and Audit Department
Dushica Stevchevska-Srbinoska, PhD, is Assistant Professor and Head of the undergraduate and graduate programs in
Finance & Banking and Audit & Accounting at the University American College Skopje, School of Business Economics
and Management. Her primary research focus is in the reporting and financial analysis domain, with teaching topics
encompassing the subjects of Principles of accounting, Financial accounting, Financial reporting and financial
statement analysis, Corporate finance, and Pricing strategies. Srbinoska is engaged as a visiting lecturer in Financial
Communication at the Master 2 program in Management Financier et Contrôle International at the University of
Angers, France, Faculté de droit, d'économie et de gestion. Her non-academia work experience includes engagement
as controller in the telecommunications industry, M&A consulting, and auditing.
She completed her master and doctoral studies at the Ss. Cyril and Methodius University – Institute of Economics
Skopje with Master thesis on Merger and Acquisition Transactions as a Mode for Enhancing Company Performance,
and PhD thesis exploring The Strategic Integration of Enterprises as a Determinant of Merger and Acquisition Success.