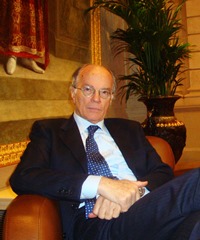 Short narrative biography
Donatino Marcon is visiting Professor at the UACS School of Political Science since 2011.
He is lecturing Economic Diplomacy. The teaching and research areas include International Relations, USA ,China ,EU economic diplomacy, Russia energy diplomacy,World energy market Globalisation, Global Economic Cooperation, IMF, Multipolarism, geoeconomics and the future balance of power.
Education
Graduated in Law. University of Cagliari (Italy)
MA degree in History and International Relations at the Institute for International  Relations (ISPI) University of Milan
Working Experiences (academic, research, other)
Career diplomat . Italian diplomatic Service.Ministry of foreign affairs (Rome).
Political counselor at the Italian Embassies in Morocco and Germany.Deputy Head of Mission at the Italian Embassies in Portugal and Switzerland.Ambassador of Italy to the Republic of Macedonia (2006-2010).
Head of the EU economic department at the Italian Ministry of Foreign Affairs Head of the Communication Services at the Italian Ministry of Foreign Affairs.
Chief of Cabinet and diplomatic advisor to the Italian Minister for economic development and Communication Technologies .
Language Skills
Mother tongue (s)- Italian ,
Other Language (s) : English, German,French,Portuguese