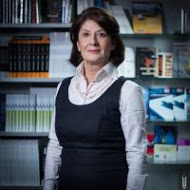 Jadranka Mrsikj, PhD
Professor
Jadranka Mrshikj, Ph.D is Professor at the School of Law. Jadranka Mrshikj has joined the University American College Skopje in 2009 from the position of a member of Managing Board of Kb Prvo Penzisko drustvo AD Skopje. She has Ph.D. in Economics and MBA from the Faculty of Economics at the University St. Cyril end Methodius in Skopje. Her Master and PhD dissertation are covering the issue of Emerging Markets Stock Exchanges and the Macedonian Stock Exchange.
From the beginning of her professional career she gained her experience in banking. During her career she was holding senior management positions at financial market institutions in Macedonia, such as: banks, stock exchange, brokerage house and pension company.  During her career she has been appointed as a member of the Board of Directors and Chairman of the Shareholders Assembly in the financial market institutions, such as: Money Market AD Skopje, Clearing House AD Skopje, QBE AD Macedonia and Macedonian Stock Exchange AD Skopje.
Jadranka Mrshikj has research interests in wide range of topics in finance market and finance including: pension systems, institutional investors, stock exchanges, SME`s financing, accounting and financial reporting.