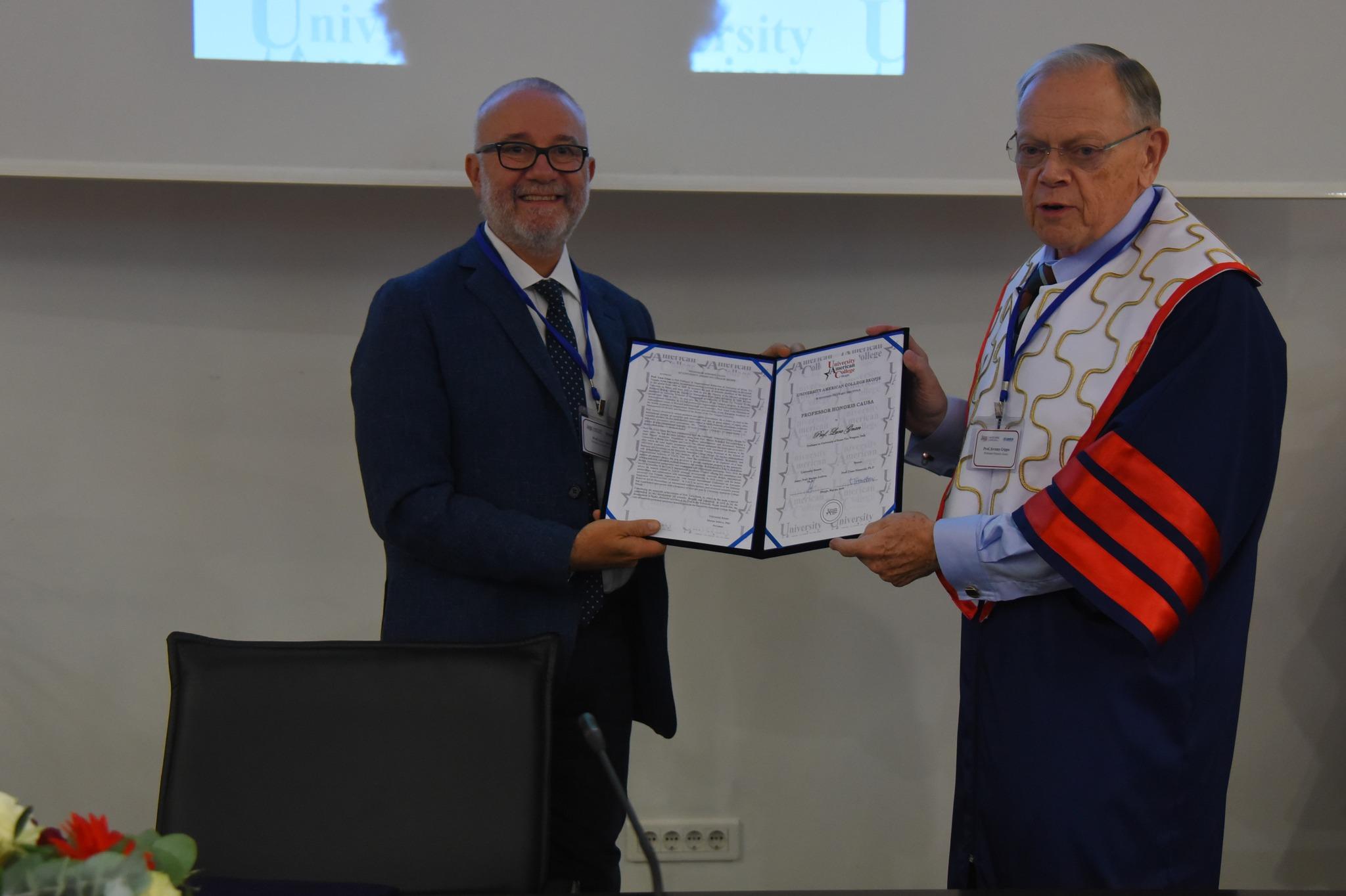 UACS awarded the title Professor Honoris Causa to Prof. Luca Gnan, PhD on September 25, 2022
Prof. Luca Gnan, PhD, is a professor and scientist from Italy in the domain of business administration. In his long career, prof. Gnan has taught at the University Bocconi in Milano, Italy, and since 2005, at the Tor Vergata University in Rome, Italy, where he teaches organizational behavior. Gnan is a former chairperson at the EURAM, a member of the Board of the Tor Vergata World University, as well as the executive committee for ethics in education at AOM. He is a division representative of AOM BPS for Europe, Research Department of AUM OMT, vice-chair and executive director of the European Management Academy, board member at the Conference for research of family enterprises, Conventor of the European group for organizational studies and Chair of the Studies for Critical Management. Professor Gnan is a member of the scientific committee for the Master Program in internationalization "CorCE Fausto De Franceschi" at the Italian International Trade Institute, focused on strategy and organization. He is chief editor of the International Paper for Transition and Innovations and is also an assistant editor in various other magazines. Professor Gnan is author of many scientific publications in the domain of family enterprises management, corporate and public management.
UACS awarded the title Professor Honoris Causa to Prof. Robert Hudson, PhD on September 25, 2022
Prof. Robert Hudson, PhD, is a professor and scientist from Great Britain working in the topics of European history and cultural politics. He has been served in six OSCE missions, which has enabled him to acquire substantial experience and insight into the post conflict conditions that he is focused on in his research and teaching. In 1997 he becomes one of the founders of HumanitarianNet, a scientific network of the EU for peace and conflict research, and in 2018 he contributes to the development of ENTAN, financed by the EU, researching minority issues and non-territorial autonomy arrangements. In 1995 Hudson becomes an EU Jean Monnet Scholar, and in 1996 he was made a Fellow of the Royal
Society of Arts. In 2005, Hudson received the Staff Certificate of Excellence in Promising Research from the University of Derby. Professor Hudson has over a hundred publications to his name, including 16 edited and co-authored books.
Prof. Jeremy Cripps PhD, an acclaimed expert in the field of finance and a renowned international professor was awarded with the title Professor Honoris Causa at UACS.
On May 14, 2014, the University Senate and Rector's Board of UACS convened upon the occasion of declaring Prof. Jeremy Cripps an honorary professor at UACS.
UACS is proud to award such a title to not only an eminent academic, but also an experienced professional with broad international experience.
Throughout his extensive international academic career, Prof. Jeremy Cripps, has taught at Universities from countries across the globe, such as the UK, the USA, Kuwait, and many more.
Apart from his academic achievements, Prof Cripps holds a number of professional qualifications in the field of business and finance (CPA, FCA, FCMI to name a few) and has been part of the executive management at leading companies from around the world.
In recognition of his many accomplishments, especially in the field of education, Prof. Cripps has been elected as the President of ACBSP Region 8 for the year 2014.
Therefore, given the outstanding contribution to the development of scientific thought and education, UACS is honored to have Prof. Cripps as an honorary professor at the School of Business Economics and Management, where he teaches courses at the MBA program.
UACS awarded the title Professor Honoris Causa to Dr. Zlat Milovanovic on August 22, 2012. Zlat Milovanovic served as Vice Rector for International Relations and University Development from 2007-2012.
Dr. Milovanovic holds a PhD in International Relations from Temple University and a Doctorate in Public Law from the University of Nancy, as well as an MA in European Studies. Formerly, he taught International Law and Political Science at Boston University Graduate School, Temple University and Glassboro State University. In Macedonia, he taught also at South East European University (SEEU), New York University Skopje (NYUS) and three graduate seminars at Cyril and Methodius University Law School (in English). At UACS he taught undergraduate and graduate courses on European Integration, Comparative Government at the School of Political Science, and Business Ethics at the School of Business Economics and Organization Sciences. Most of his students have been American, although some 65 countries have been represented in his classes. His students are today Ministers or Members of Parliament, Ambassadors, Consuls, employees of international organizations, academics, business people, journalists…
Milovanovic has also worked with a number of international NGOs in various capacities.  He took part in many international meetings and conferences and authored publications on many topics in a host of languages.  His latest work, edited together with Dr. Ivan Dodovski: "Thucydides vs. Kant in Our Time: Reconsidering the Concepts of War and Peace – Essays in Honor of Dr. Gaspar Biro" – came out in 2015.
He contributed to UACS development based on the most up-to-date American and European models.  As a member of the University Senate, the Rector's Board, the Educational-Scientific Councils and other bodies, he favored internationalization of our University and its increased cooperation with universities in several parts of the world. He was also a member of the teams which worked on international accreditations: ACBSP, ACBSP expanded accreditation, ECBE at all-European level, Turkey's YOK agency. He took part in National Erasmus Conferences (in Macedonia) and the meetings of the Inter-university Conference (of private universities).
His experience outside the academia includes a research position at Delphi Research International (DRI), in Washington, DC; a position within the Narcotics and Law Enforcement Agency (NLEA) of the State Department at U.S. Embassy Pretoria, dealing with bilateral cooperation in fighting international crime; giving lectures to academic and non-academic audiences in some 15 countries.
He is a member of the American Society for International Law (ASIL) and its International Criminal Law Section, of the American Political Science Association (APSA) and the Austral-Asian Section of the Academy for International Law. He is also a member of the Advisory Council of the Macedonian Bar Association, an Honorary Member of the Macedonian Chamber of Mediators, a member of the Board of Young Macedonian Diplomats' Association.
Most recently, he taught several courses on International Law and International Humanitarian Law (UACS 2013 and 2014), participated in UACS international conferences, ASIL meetings, a meeting on Rule of Law Initiative of the American Bar Association.  He has also followed the work of the Association of International Educators (NAFSA) and trends in international education.
UACS has awarded the title Professor Honoris Causa to Dr. Gáspár Bíró on June 19, 2010. This is the date when the first master thesis in political science was defended at UACS. The Senate of University American College Skopje bestowed upon Gáspár Bíró the title professor honoris causa for his exceptional contribution to the development of the University and for his outstanding achievements in the political science, the advancement of human rights and the protection of minorities.
Following his graduation in 1982 from the Faculty of Law at Babes-Bólyai University in Cluj-Napoca, Gáspár Bíró first worked as a lawyer, then as senior fellow at Bibó István College of Eötvös Loránd University, Budapest. In 1997 he received his PhD degree in Political Science from the Hungarian Academy of Sciences (MTA). Since 2005 he was full tenure professor of international relations at the Institute of Political Sciences, Faculty of Law at Eötvös Loránd University in Budapest. He was appointed as Rector of University American College Skopje on June 2, 2008, where he also taught undergraduate and graduate courses in international law, foreign policy analysis, and diplomacy.
In 1989, Gáspár Bíró served as Chief Counselor in the Secretariat for National and Ethnic Minorities at the Council of Ministers of the Republic of Hungary, and in the following year he took the post of Director in the Office of the Prime Minister of the Republic of Hungary. As expert, he participated in the UN Commission on Human Rights' Ad hoc Working Group on the Declaration on the Rights of Persons Belonging to National or Ethnic, Religious and Linguistic Minorities, as well as in the Committees of Experts for the Protection of National Minorities in the Council of Europe.
In 1992 he served as independent expert of the United Nations Commission on Human Rights on the situation of human rights in the Sudan, and in the following year he was appointed as Special Rapporteur of the United Nations Commission on Human Rights on the situation of human rights in this country. His alarming reports on slavery and other human rights abuses in the Sudan received wide attention, whereas Gáspár Bíró was declared persona non grata by the Sudanese military regime and received direct public threats. In two terms (1998-2004 and 2008-2012) he served as expert and second Vice President of the Advisory Committee on the Framework Convention for the Protection of National Minorities to the Committee of Ministers in the Council of Europe, and between 2004 and 2006 as independent expert member of the United Nations Sub-Commission on the Promotion and Protection of Human Rights.
Gáspár Bíró was invited as key speaker to major international conferences, and he authored many studies, including some published by the United Nations Association of the USA (New York, 1994), Institute Universitaire des Hautes Études Internationales (Geneva, 1993), La documentation Francaise (Paris, 1999), Central European University, Budapest (1999), Lit Verlag Münster-Hamburg-London (2000), Martinus-Nijhoff (2013). He also published three books in Hungarian: The Free Choice of Identity (Budapest, Századvég, 1995); Introduction to the Study of International Political Relations (Budapest, 1998, second edition: Budapest, Osiris, 2003); Democracy and Self-Determination at the Beginning of the 21st Century (Budapest, Rejtjel, 2004). Gáspár Bíró was member of the Editorial Board of the International Journal on Minority and Group Rights published by Kluwer Law International.
On 18 December 18, 1995, the Government of the Republic of Hungary granted Gáspár Bíró the Minorities Award "for his minority protection activities and for preparing the basic concept of the Act on the Rights of National and Ethnic Minorities" adopted by the Hungarian Parliament in 1993 with majority of 96% of the votes.
Gáspár Bíró was a great friend of Macedonia. He was the one who wrote the report for admittance of Macedonia into the Council of Europe.
Prof. Dr. Gáspár Bíró shall be remembered as an extraordinary scholar of noble soul and mind, a brilliant intellectual of Kantian spirit who stood courageously for the ideals of liberty and human dignity.