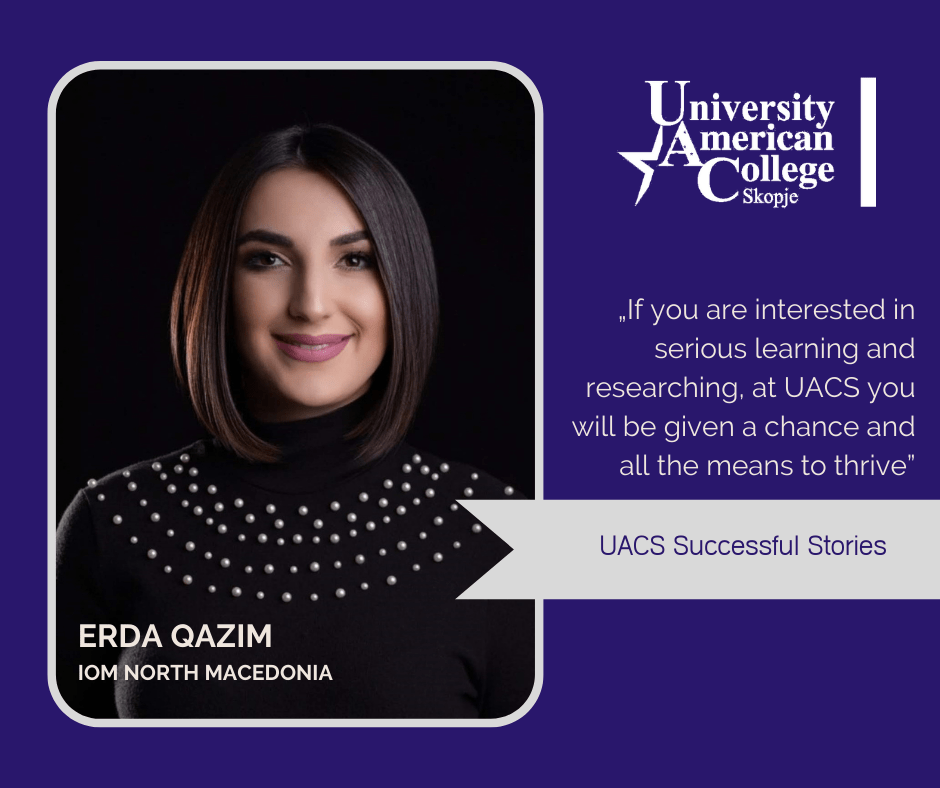 UACS Successful Stories – Erda Qazim, UACS Graduate
UACS Successful Stories
"If you are interested in serious learning and researching, at UACS you will be given a chance and all the means to thrive"
Erda Qazim, UACS Graduate and Project Coordinator at IOM
Erda, you have two degrees from the School of Political Science at UACS, from undergraduate and graduate studies. What motivated you to choose political science?
The main reason why I chose to study political science was to contribute to the positive community development in North Macedonia. Political science, or Aristotle called it, the 'master science', teaches you to be a better citizen with qualitative leadership training.
I was aware that studying political science would help me sharpen my communication and analytical skills as well as writing. These skills are essential in understanding the context, community, and advocacy.
What are your impressions from UACS and what is the most important lesson you have learnt?
UACS was a deliberate and informed choice. UACS is an enjoyable environment to study in. During my five-year studies there, I never felt put aside or unimportant. UACS professors and staff are supportive and flexible. A well-rounded education and small class sizes were key factors when I chose to study at UACS.
You work at IOM North Macedonia. How did your career begin and how did you progress to such an important position?
Before I defended my master thesis, I started working for an EU Election Observation Mission in Kosovo. I was a Senior Elections Analyst Assistant. I worked for several years in multiple missions of the EU and IOM. I also did an internship at IOM Kosovo. While working at the OSCE ODIHR Mission in Skopje in 2016, I applied for a Project Assistant position at IOM. I started working at IOM Skopje in May 2016, and the current portfolio in December 2016. For 6-7 months, I worked on Migrant Protection and Assistance. Currently, I coordinate IOM's Social Cohesion and Support to Youth programme.
How did the UACS studies prepare you for the real world of diplomacy and political science?
Considering my job at the International Organization for Migration and my role, UACS gave me a thorough understanding of migration, vulnerabilities and resilience. These courses came in handy when I started working at IOM. However, beyond that, UACS classes prepare you for the practical side of the job. Majoring in political science qualified me for work in private for-profit and non-profit organizations, as well as the public sector. I chose to work in an international organization because this is where I can utilize my skills best.
What would you recommend to future students, why choose the School of Political Science at UACS?
Studying political science at UACS prepared me to think critically and independently. It also helped me appreciate differing points of view and enriched me with the tools and abilities to understand current affairs. The professors were among the best in the country. The quality of lectures, the interaction with professors and students, scholarship opportunities for high achieving students, and the language of instruction being English, made UACS an easy choice. What I took away from UACS, besides the knowledge and the new skills, is the liberal environment and how much the freedom of expression was encouraged and critical thinking appreciated. UACS is a respectful environment, and if you are interested in serious learning and researching, you will be given a chance and all the means to thrive.