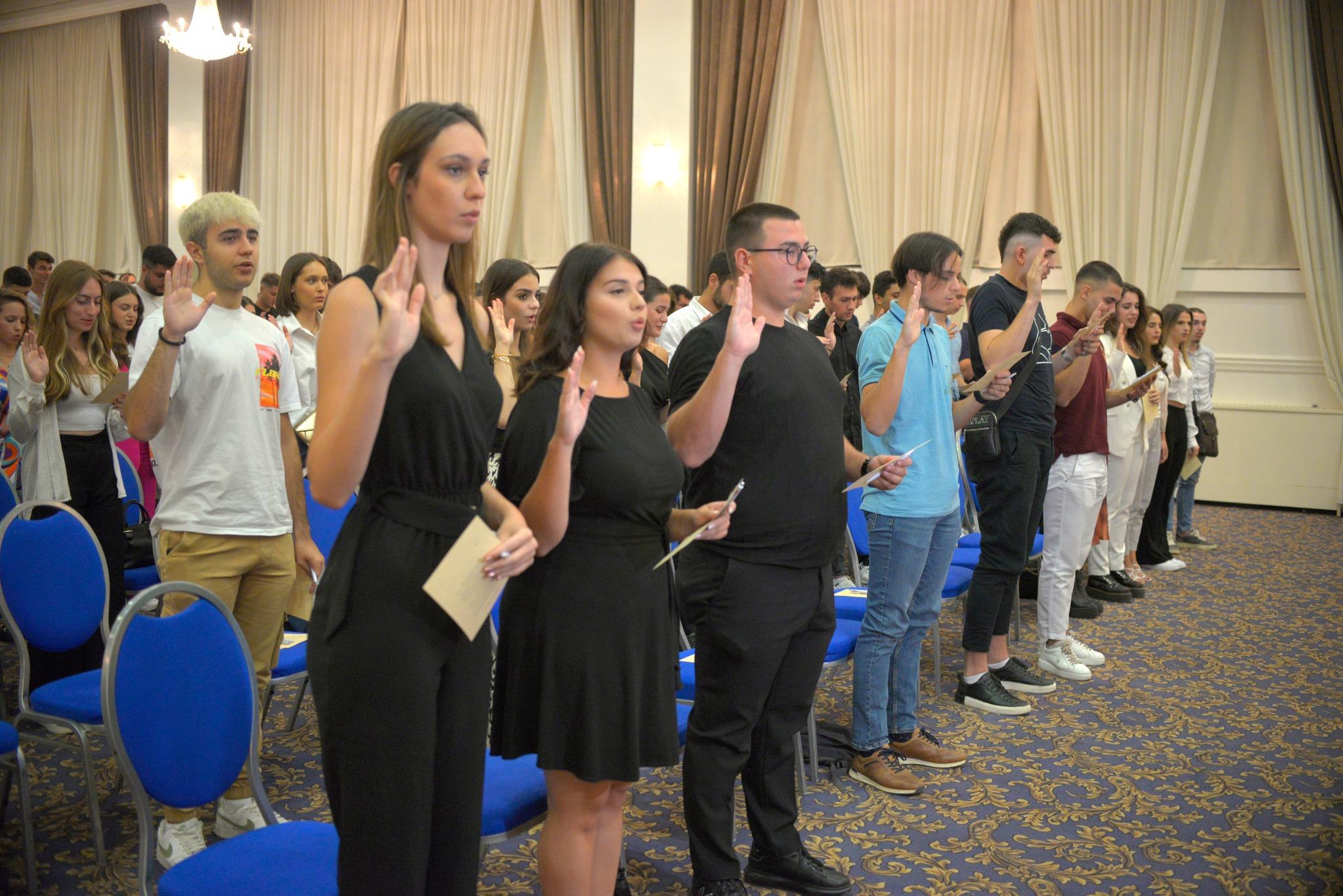 UACS Opening Ceremony 2023/24
It's the start of a brand new academic year!
Yesterday, University American College Skopje officially opened the academic year 2023/24 with great enthusiasm and pride, with our UACS Opening Ceremony. An annual tradition, it brings the entire UACS community together as one, including our first-year students, their parents, professors, and distinguished guests.
As the atmosphere buzzed with anticipation during the start of this event, the Ceremony began with the procession of the UACS professors who walked in unison onto the podium, symbolizing the unity and dedication of our University. They were joined by the choir of the American High School Skopje, a talented vocal ensemble of high school students, who delivered exceptional performances of the Macedonian national anthem, the American national anthem, and the Academic anthem.
Following a warm address from a representative of the US embassy, Deputy Chief of Mission Eric Meyer, who acknowledged the strong partnership between UACS and the United States in promoting quality education and fostering global connections, the ceremony continued with our esteemed Rector, Marjan I. Bojadjiev Ph.D. Delivering an inspiring speech to the new students of UACS, his words resonated with the audience, emphasizing the value of higher education, the opportunities it brings, and the responsibility that comes with it. As the formal first step of university education, and serving as a traditional induction into the halls of UACS, the Rector Marjan I. Bojadjiev PhD led the new students of UACS in reading the UACS academic oath, followed by the formal announcement of the start of the new academic year.
An occasion to reaffirm the values and principles that drive UACS forward in its mission to empower students with knowledge and skills that transcend borders, the UACS Opening Ceremony marks an important milestone for first-year students and their families. Serving as a beacon of inspiration, unity, and commitment, we look forward to the continued success of all our students, faculty, and staff as they embark on this new, wonderful, and exciting academic journey, together.