Eleventh Annual Reading Competition – UACS School of Foreign Languages
Committed to promoting literature among high school students, UACS School of Foreign Languages organized its Eleventh Annual Reading Competition. This year's competition honored the 100th anniversary of James Joyce's literary masterpiece Ulysses. Ulysses was first serialized in parts in the American journal The Little Review from March 1918 to December 1920 and then published in its entirety in Paris by Sylvia Beach on 2 February 1922. It is considered one of the most important works of modernist literature.
Due to the Covid-19 pandemic, the Competition was organized electronically. Fifteen students from across the country sent their recording of reading a three-minute excerpt from Ulysses.
The Jury, consisting of Jovanka Jovanchevska MA (UACS), Marija Girevska, PhD (University of Ss. Cyril and Methodius), Tamara Jolevska-Popov (UACS), awarded first, second and third place at the online Award Ceremony which was held on 20 June 2022.
Dr. Marija Girevska, an international Joycian scholar and the translator of Ulysses into Macedonia, held a short lecture on the novel and its translation.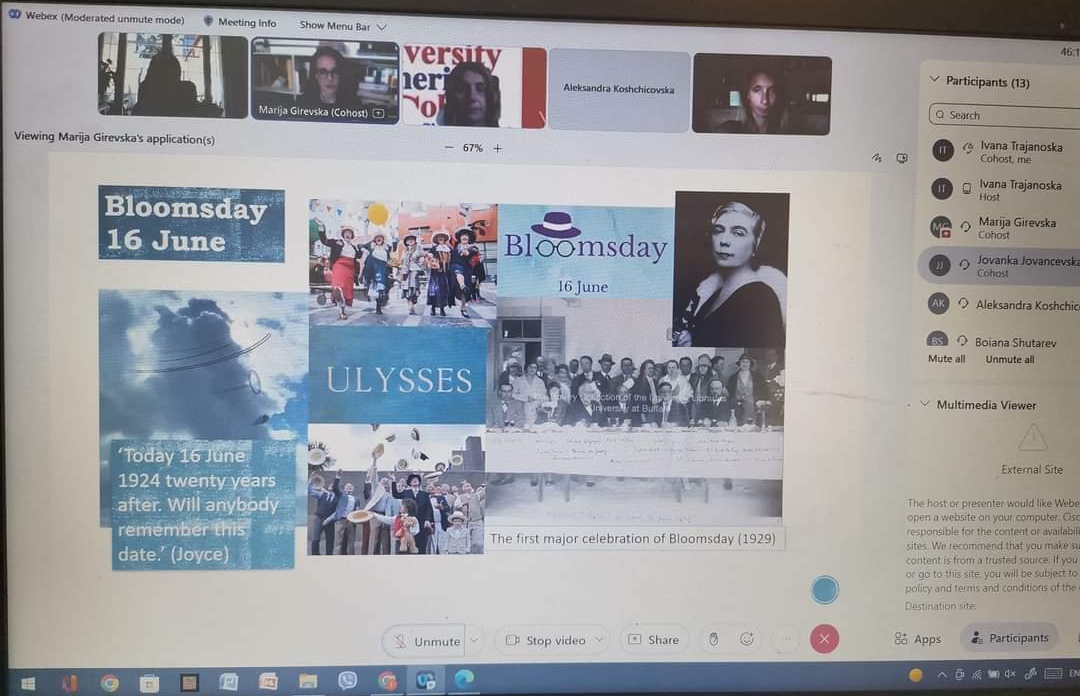 The winners of the the Eleventh Annual Reading Competition are:
1 Place: Bisera Grujovska, mentor Aleksandar Mitevski – "Orce Nikolov" High School – Skopje
2 Place: Dimitar Trajkovski, mentor Nadica Arangelovikj – "Orce Nikolov" High School – Skopje
https://www.youtube.com/watch?v=e-Mov0T9fdU
3 Place: David Salontaji, mentor Aleksandra Koshchicoska – "Orce Nikolov" High School – Skopje
We would like to thank all students who participated in this year's Competition and their mentors for their encouragement and enthusiasm. Check out their videos on our YouTube channel:
https://www.youtube.com/channel/UCUMNj0uADFy9VuXeF5qsc-w
Our mission to promote reading habits, love for and understanding of literature in high school students would not have been possible without the commitment of the high school professors who have been supporting our competition for 11 years now.
We hope to see you all at UACS next year for a revolved Competition 2023.
Yes to life, yes to reading!