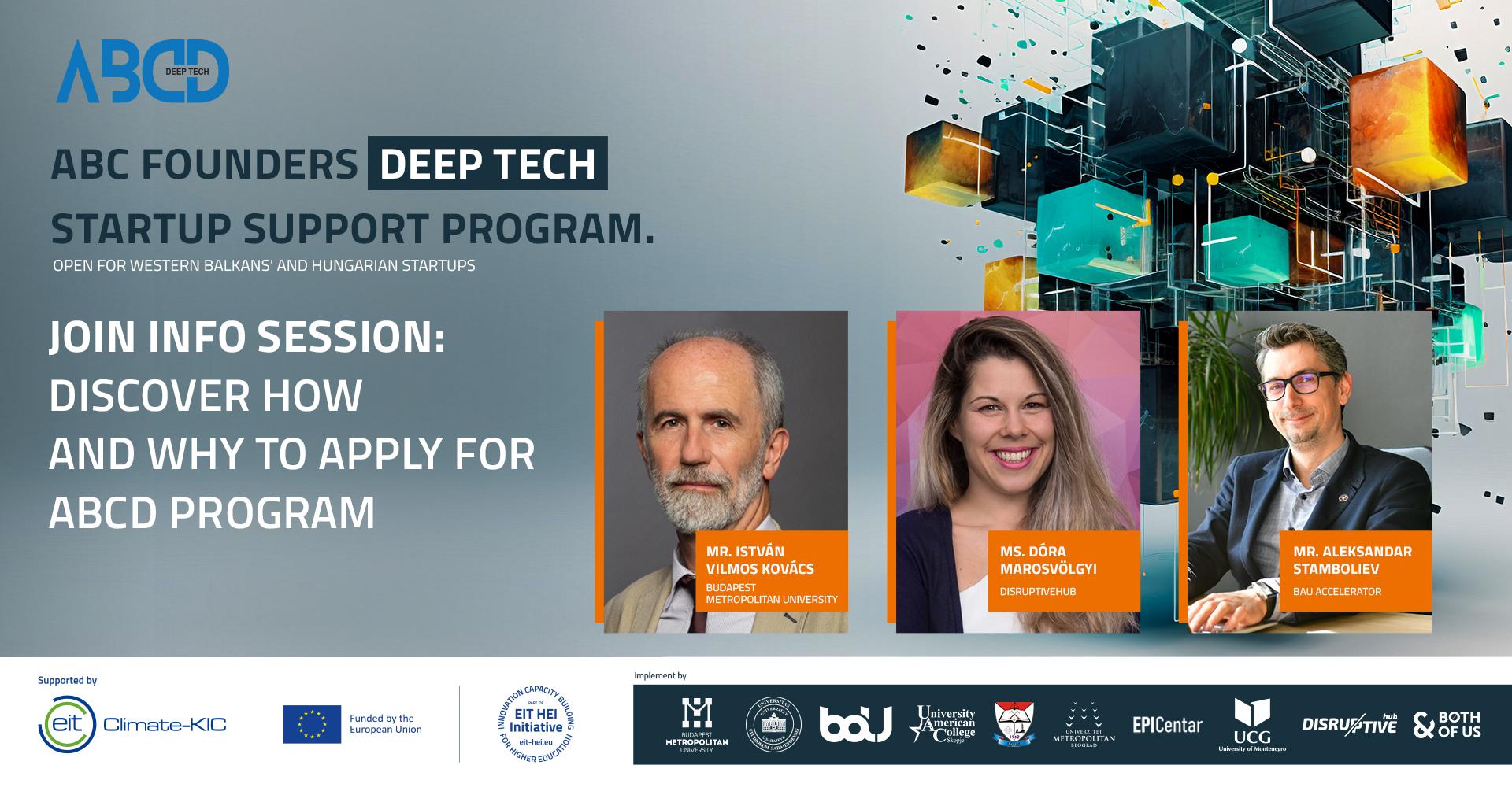 Join Us for a Virtual Session for the ABCD Project, implemented by UACS (September 5th, at 16:00)
📣 Mark Your Calendars! Join Us on September 5th at 16:00 for an Info Session 🌟
Are you ready to dive into the world of innovation, deep tech, and entrepreneurial opportunities? Look no further!
We're thrilled to invite you to our upcoming Info Session on September 5th at 16:00, where we will be unveiling the remarkable ABCD Project and the unparalleled benefits of the ABC Founders Program.
Date: September 5th, 2023
Time: 16:00
📍 Location: Virtual Session (Link will be shared closer to the date)
👥 Who Should Attend:
Aspiring Entrepreneurs
Tech Innovators
Students with a Passion for Deep Tech
🎯 What to Expect:
During this engaging session, our passionate organizers will provide you with a comprehensive overview of the transformative ABCD Project. You'll gain insights into how this initiative is driving innovation, fostering an entrepreneurial mindset, and creating opportunities in the realm of deep tech.
But that's not all! We'll also shine a spotlight on the fantastic advantages that the ABC Founders Program offers. From joint online sessions with industry experts to carefully matched mentors, from exploring funding opportunities to networking with successful startups, this program is your gateway to success in the deep tech landscape.
🔑 Why You Should Join:
If you're enthusiastic about innovation, keen to explore the possibilities of deep tech, and eager to connect with like-minded individuals, this session is tailor-made for you. Whether you're a student, a budding entrepreneur, or simply curious about the potential of deep tech, this Info Session is your chance to discover a world of opportunities.
Ready to embark on an inspiring journey with us?
Don't miss this chance to gather insights, ask questions, and connect with fellow innovators.
Stay tuned for the session link and get ready to fuel your passion for innovation and entrepreneurship.
See you on September 5th at 16:00! 🚀💡
#ABCDInfoSession #InnovationJourney #DeepTechExploration