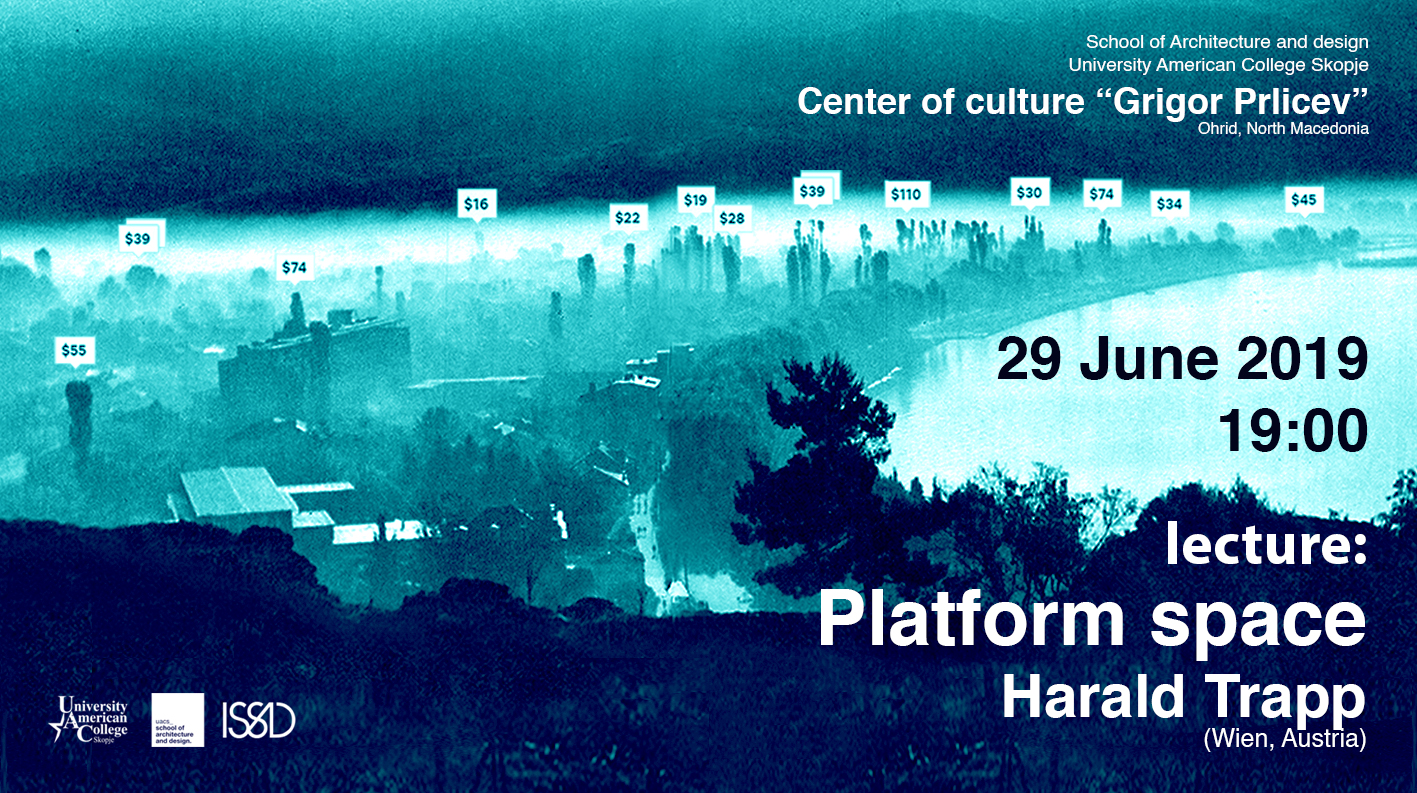 Platform space | Предавање на Проф. Харалд Трап во рамките на Летната школа за Архитектура во Охрид
Локација: Мала сцена, НУ Центар за култура "Григор Прличев"- Охрид
Датум и време: 29ти Јуни, Сабота во 19:00 часот
Универзитет Американ Колеџ Скопје – Факултет за Архитектура и Дизајн Ве покануваат на предавање и разговор со професор Харалд Трап, социолог и архитект од Виена, Австрија. Предавањето ќе се одржи во Сабота, 29ти Јуни во 19:00 часот во НУ Центар за култура "Григор Прличев" – Охрид, мала сцена.
Настанот е во рамките на 7мата Летна Школа за Архитектура во Охрид со наслов "Platform tourisim: The Ohrid Archipelago" предводена од професор Трап. Во предавањето професорот ќе се осврне на подемот на дигиталните платформи кои влијаат на туристичките концепти со дирекна реперкусија на архитектурата, урбаното јадро, приватните домови и традиционалните модели на сместувачки капацитети кои се под постојан притисок од новоиницираната туристичка инфраструктура. Истовремено ќе се презентираат и фокусните аспекти на кои ќе се осврне работниот процес и разултатот на овогодинешната летна школа која за студија на случај ќе го земе односот помеѓу аспектите на домување и сместување во постојната архитектонска типологија низ различни фрагменти на градот Охрид.
Покрај проектантското, професионалното искуство на Харалд Трап вклучува и бројни изложбени проекти за Museum of Applied Arts (MAK) Vienna, Тhe Albertina Museum Vienna, Belvedere and Künstlerhaus Vienna, the Kunsthalle Bonn и the Art Biennale Venice (со Филип Круммел). Од 2002 до 2015 е доцент на Технолошкиот универзитет во Виена (TU Wien), каде што докторирал во 2013 година. Во 2014 година e куратор и дизајнер на австрискиот павилјон на Биеналето за архитектура во Венеција (со Кристијан Кун). Од 2015 до 2018 година е раководител на Мастер програмата за архитектура на Универзитетот во Источен Лондон (UEL). Во моментов предава на Технолошкиот универзитет во Виена (TU Wien). Работи на проектот Capital Architecture www.capitalarchitecture.eu (со Роберт Тум) и е основач на AKT (2019), колектив на млади архитекти во Виена http://www.akt.eu.