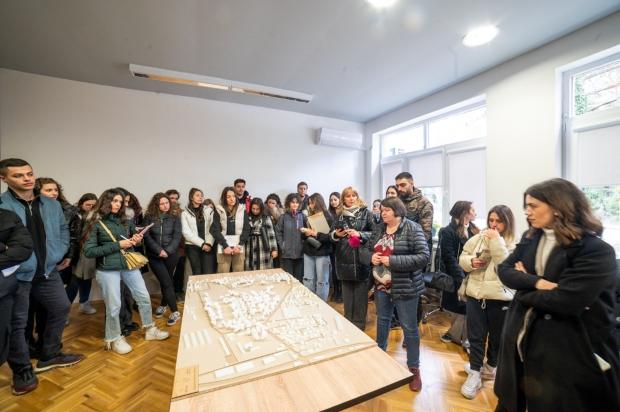 Study visit of architecture students from the American College in Ohrid
On the 16 and 17 of March, students from the Faculty of Architecture and Design, at the University American College Skopje, visited Ohrid for a study visit, in the organization by UACS, and the Archrid Collective.
During their two-day visit, at 16.03. the students were welcomed at the "Mihailo Apostolski" barracks, a subject for their design task for the upcoming semester. Members of Archrid and Kasarna Hub introduced the students to the site and its boundaries, as well as its contents and natural features.
Later in the day, the students were also treated to a presentation held in the amphitheater of the University of Information Sciences and Technologies – "St. Paul the Apostle" Ohrid. The presentation was opened by UACS's Prof. Dr. Mishko Ralev and followed up by members of Archrid, such as mag. eng. arch. Emilia Stojanoska, mag.eng. arch. Hristina Alexioska and Stefan Zupan. An open panel discussion followed the presentation.
The visit concluded on 17.03. The students visited buildings with significant architectural features in Ohrid, some of which will serve as reference examples for the student's work. Some of the facilities visited were: The House of Culture "Grigor Prlichev", Hotel Palace, the Student Dormitory "Nikola Karev", the Home of Retirees, and the Archive, where the study visit concluded.