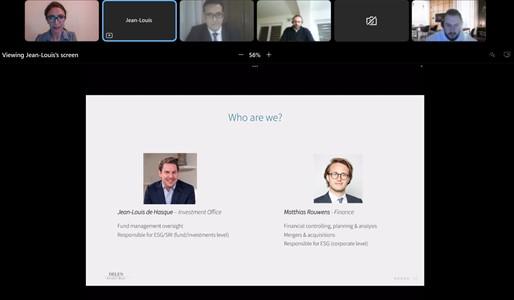 Delen Private Bank, Belgium: Private Banking and ESG Reporting
On the 13 February 2023 the students from the UACS School of Business of Economics and Management and professors Igor Srbinoski and Dusica Stevcevska Srbinoska were delighted to welcome Mr. Jean-Louis de Hasque and Mr. Matthias Rouwens from Delen Private Bank, Belgium (https://www.delen.bank/en-be/).
Founded in 1936 as a brokerage firm, Delen Private Bank specialises in wealth management and the global planning of private and business assets of private customers. Today the bank has over 50 billion euro in assets under management. With initial operations in Belgium, the group has a growing presence in the Netherlands, Luxembourg, Switzerland and the UK. The main shareholder of Delen Private Bank is Ackermans & van Haaren, a Euronext BEL20 company, family holding.
Mr Jean-Louis de Hasque has been with the bank since 2004, and is specialised in fund management, fund risk management and sustainability. Mr Matthias Rouwens started his professional career as a consultant for financial institutions and in 2016, he joined Delen Private Bank as a member of the Finance team. He is responsible for managing internal corporate policy and responsible for the coordination of the annual non-financial report, which has been in place since 2018.
The guest lecture was a unique opportunity for our students to learn more about private banking and wealth management as well as Delen's ESG model. The lecture ended with an invigorating Q&A session and insightful exchanges.