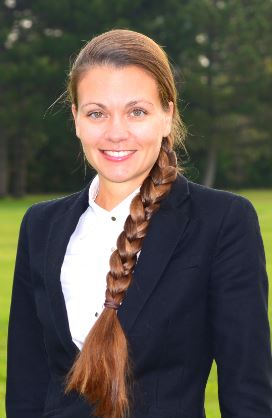 Ilijana Schaeffer – UACS Alumni of the Month
Ilijana Schaeffer is one of the many successful UACS alumni students that has been working in Austria as Team Leader Customer Service, EVN AG. Impressed with her achievements, we sat down with her to discuss her work, her education, and how UACS helped her become successful.
Ilijana, thank you for this opportunity. Do you remember the first day at UACS? What was it like?
The first thing that comes to my mind when recalling my first impression of UACS is the amazing presentation I received from the admission officers. The ladies impressed me with their profound expertise and excitement for the university and for the MBA program, which is not only certified by the ACBSP but also ranked among the Top 100 MBA programs.
What are the most important lessons you have learned at UACS?
I graduated with honors at the MBA program within the School of Business. The most important lesson for my work life I have learned from my professors was that, no matter the professional setting you are at, there are two very important points to bear in mind. Firstly, employees are the most valuable asset of any company, and secondly, employee motivation is directly linked with performance and productivity. Apart from that, there is a very wise life lesson I have received from my dear mentor I would like to share as well: Imagine that, as a leader, you can either behave as a carrot, as an egg or as a coffee bean when put into boiling water. You would do best if you behave as the coffee bean as it remains stable regardless of the environment and in addition to that, it enriches the boiling water with its taste and flavor, creating a wonderful synergy 🙂
What happened after graduating? How has your career path been moving?
Ever since graduating, my career path has moved in the direction of customer centricity. The first milestone after graduating was the establishment of the group innovation management together with my inspiring, now former boss. It has been an amazing journey of fostering the development of sustainable, innovative services and products for our customers in alignment with the sustainable development goals. Since June of 2021, I have gone sort of back to the roots to the department where my career path started 14 years ago. I am a team leader in Customer Relations and feel so blessed to provide high quality customer service focused on the field of sustainable technical solutions and e-mobility together with my team.  I truly have the honor to lead a team of highly talented and motivated professionals who carry the customer in their heart.
What makes UACS different? Why study there?
If I were asked for a recommendation by a young person about what university to choose, I would ask them to think about what really matters to them, what their core values are, what they imagine themselves to be 10 years from now and what university aligns with what they aspire while offering a solid fundament for their aspired career path.
To me, UACS offers everything a young person needs as a knowledge fundament for a successful career path. Regarding the most important aspects of learning, I would suggest to any young person to be very present and engage actively in the studying process. Consider your studies as a book of amazing recipes with the secrets of the best chefs that is been handed out to you. After graduating, you are eventually responsible for the quality of the dishes you get to create 🙂