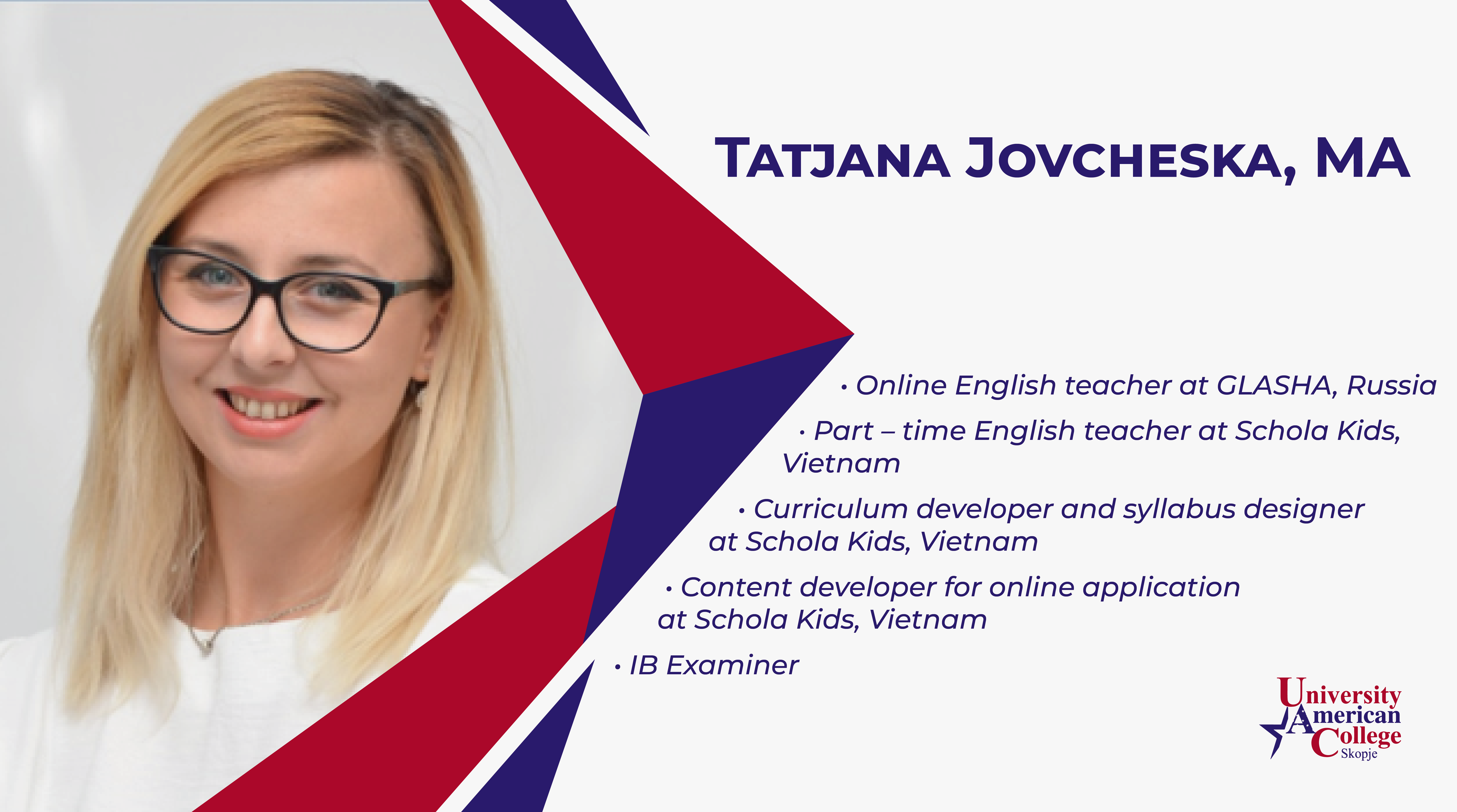 My successful journey at UACS
Why did you choose the UACS School of Foreign Languages for your Master studies? 
I chose UACS School of Foreign Languages for three reasons: 1. COMPREHENSIVE KNOWLEDGE 2. STUDENT – CENTRED LEARNING 3. REWARDING PROGRAMME.
I am certain that I made the best decision when I enrolled in the postgraduate studies in TESOL; not only did I achieve in-depth knowledge of teaching methods, but I also developed a true understanding of the concept of foreign language teaching. Most importantly, the comprehensiveness of the programme offered through small class sizes and accessible international teaching staff ensured considerable success in my degree. 
What was your experience with the teaching concentration like?
The best aspect about doing postgraduate studies at UACS School of Foreign Languages was the variety of carefully chosen courses. The well – presented modules were delivered by internationally renowned lecturers who aimed at creating a stimulating atmosphere and more pleasurable learning experience. The teaching materials, classmates and teaching staff came from diverse backgrounds enabling me to approach the studies from different perspectives. However, the highlight of my experience in UACS was the integration of the course with the individual with great emphasis on self-development, which was quite important to me. I was able to immerse myself in the applied linguistics syllabus with growing confidence for the course was not only about 'learning' the material but also becoming actively engaged in the in-class and after-class activities. The thing I loved most was the non – traditional teaching approach. I was happy to dwell on different linguistic issues and thus shaping my critical thinking. The project work and stress-free exams were definitely the key to my future success.
How has your Master degree helped in your professional development? What career options has it opened?
I was really hoping that after leaving UACS I would witness tangible rewards. And that's what happened. I was thrilled to share my knowledge with my colleagues at my place of work. I was also able to see immediate results in the way I approached the subject matter and the variety of teaching methods I was confident to apply. UACS School of Foreign Languages left me well prepared for my career as a teacher and researcher. I am pleased to say that it has paved my way into the teaching career. Thus far, I have been the recipient of four teacher development awards: 1. E-Teacher Scholarship Award by the University of Oregon for Introduction to Pedagogy and Practices for Teaching English to Speakers of Other Languages; 2. iTDi Teacher Scholarship by the International Teacher Development Institute;3. Teach Abroad Scholarship by Ethical TEFL 4. The Consultants – E Scholarship. I have attended many seminars and webinars as well as presented at national and international conferences. I have presented at the 23rd Annual International Convention of Thrace, Northern Greece, at the 2nd International Philological Conference in Poland and my paper has been accepted for the 3rd International Philological Conference in Poland, too. Moreover, my article on vocabulary teaching practices has been published in the Humanising Language Teaching Magazine. I am presently working as an online English teacher at the Russian GLASHA Skype School, part –time English teacher, curriculum developer, lesson planner and application developer at Schola Kids (Vietnam), and IB examiner. I can't thank UACS enough for making my Masters such a pleasant experience.