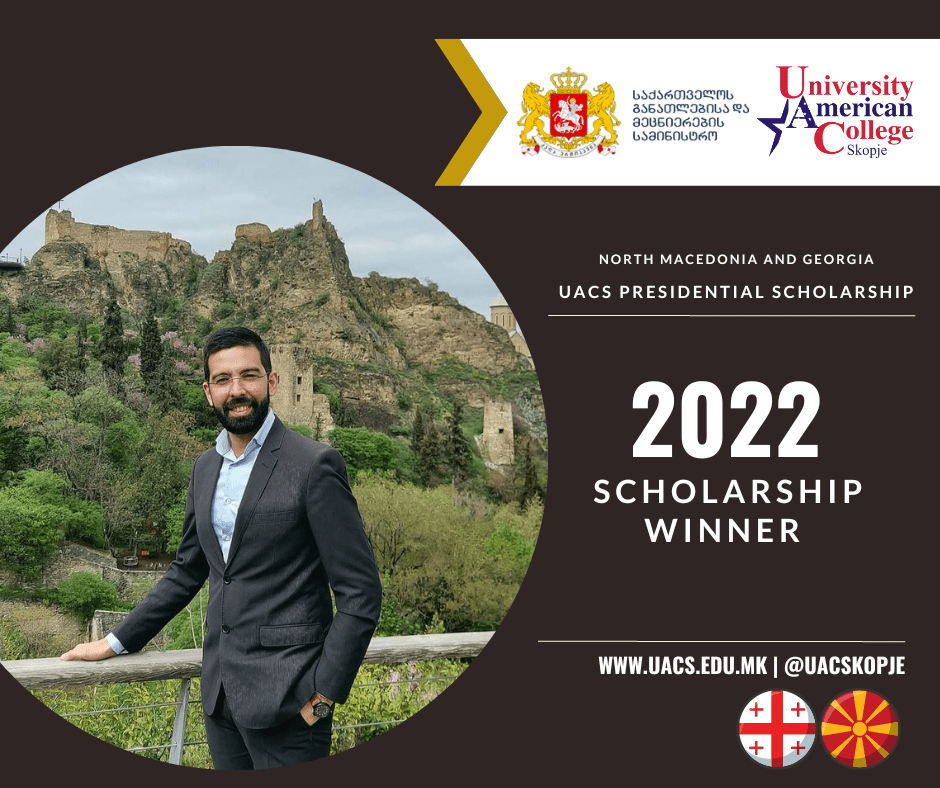 UACS Presidential Scholarship Winner – Nika Inauri
We would like to formally announce the winner of the UACS Presidential Scholarship for Georgian citizens – Nika Inauri! He went through a detailed selection process and was granted full scholarship to attend the hybrid MA program in International Relations and Diplomacy at the UACS School for Political Science. We are so grateful to Marko Andonov, UACS Dean and Honorary Consul of Georgia in the Republic of North Macedonia, and the Embassy of Georgia in the Republic of North Macedonia. Congratulations, Nika, we hope you will enjoy your studies and we can't wait to meet you in Skopje!
Nika Inauri has a Master Degree with honors -"Valedictorian" in Social Sciences from three Georgian universities: Ivane Javakhishvili Tbilisi State University, Georgian-American University and Caucasus University. He earned an Bachelor of Oriental Studies from Ivane Javakhishvili Tbilisi State University. He spent one year of his bachelor's degree at Cairo University in Egypt. He is currently the Head of Tbilisi Service Unite at the Ministry of IDPs, Health, Labour, and Social Protection- LEPL State Employment Support Agency. Prior to that Nika Inauri worked at the Ministry of Foreign Affairs of Georgia as a PA to the Ambassador of Georgia to the Arab Republic of Egypt, the Republic of Tunisia and Libya (residence in Cairo). Earlier Nika worked in the leisure, travel & tourism industry as a Business Development Manager in the GCC and Middle East Countries. His primary areas of interest are EU Integration, EU Enlargement process, Visa Liberalisation, Employment relations. Nika has a magnetic presence at work, and he uses his positive attitude and energy to motivate others to work tirelessly toward success. During his spare time, he enjoys reading and traveling.